Latest News - August 21
With a new pro-family government elected this year, the battle is gearing up across Finland with more energy than ever.

Finnish version of MassResistance booklet "What same-sex 'marriage' has done to Massachusetts" is being passed out across the country.
____________________
Hundreds of flyers (per hour) having an effect among staff. Keeping up the pressure. Awaiting verdict on appeal hearing.
Signs and flyers at busy entrance to hospital in Boston. SEE VIDEO.
Verdict to come within twenty days.
Hospital reacts to physician's concerns with hostility, intimidation and threats; finally expels him from staff.
Says that discussion of medical facts of homosexual behavior constitutes "unprofessional conduct." Unbelievable!
| | |
| --- | --- |
| | Beth Israel Deaconess Medical Center is a major Harvard-affiliated hospital in Boston. One principled physician stood up to the destructive politically-correct group-think. |
____________________
The big retreat continues. Permanent split coming in pro-family movement?

Impartial? Supreme Court Justice Ruth Bader Ginsburg performs a same-sex "marriage" on August 31, 2013.
The rule of law was killed in Massachusetts in 2004. The judges and Governor got away with its murder.
Let's be honest. Being called nasty names or boycotted, etc., is small potatoes in the context of things. Also: see video.

We can learn a lot from the 56 Founding Fathers who signed the Declaration of Independence.
A candid analysis from the trenches.

Russian immigrants holding signs outside the Massachusetts State House during Marriage Amendment Constitutional Convention demonstrations in 2007.
Elected officials celebrate 10-day period of perversion and lunacy. (See our video!)

Boston Mayor Marty Walsh and other politicians raise the "gay" flag over City Hall.
Nationwide vote would have surely failed otherwise. Are other countries next? This should be a wake-up call around the world.

The well-funded propaganda blitz in full swing.
Up against millions of US "gay" dollars and overwhelming support by politicians, media, business, and liberal elite.
There's never been a bigger need to confront the radical agendas being forced on families, children, and religious believers.
Outrageous issue reported on Boston TV, radio, & across the Internet.
Mother of two children in public schools tells
legislators about graphic details of school survey
On sexuality, suicide, drug use, criminal activity, personal and family life. Wait until you see the questions!

Most parents have no idea what the schools are asking their kids to reveal.
Playing to "conventional wisdom" that has not worked so far. Entire case lacks legal legitimacy.
Set an example for other pro-family clergy.

They came from New York and New Jersey and aren't afraid of the liberal media or the mushy pro-family establishment.
What was once a fringe, unthinkable idea could be imposed on the entire nation.
Kagan's outrageous record as Dean of Harvard Law School -- aggressively pushed the LGBT agenda over period of years.
Bills filed by MassResistance, LGBT lobby, Planned Parenthood, & others.
Failure by pro-family leaders to see roots of problem

At the Indiana State House - before the politicians caved in.
Boston St. Pat's parade - here's what happened:
More politicians but fewer spectators and participants (see photos).

For some reason the LGBT "veterans" contingent was flanked by police as they marched.
Catholic Action League calls it "beyond disingenuous." Prominent homosexual activist group well known in Boston.
Normally, a contingent deciding not to march in a parade would not be the least bit newsworthy. But liberals hate to lose.
Today we saw the triumph of resolute religious believers over the homosexual lobby.
To fill gap after faithful groups drop out.
Legislators, pastors, doctors, and others ignite the crowd for bill to bypass federal court ruling forcing "gay marriage" on state. See VIDEO!

They were not ambiguous about their position on the issue!
Missouri becomes fourth state to file bill . . .
Stopping the juggernaut of madness. MassResistance working with activists in all three states, and key legislators.
Camenker speaks at Sunday service, rallies Pentecostal Church in Rhode Island on fighting the "culture wars."

The congregation came from Massachusetts and Rhode Island.
Already fighting hard on several fronts. Wait till you see the amazing things they're doing!

They're not shy, that's for sure.
But MassResistance intervenes.
| | |
| --- | --- |
| The LGBT movement's big push is to bring its destructive agenda to younger and younger children. | |
Over $12,000 in all.
Committee resignations and parade cancellations already beginning.

The "new look" of the parade has sparked huge outrage.
Opponents vow to overturn it next year after national elections with new Parliament.

Homosexual activists yelling outside Parliament had signs in both Finnish and English, presumably for the foreign press.
12,000 Finns resign from Luthern Church after pro-gay marriage remarks by Archbishop!
Reacting to LGBT 'gala banquet' in Boston: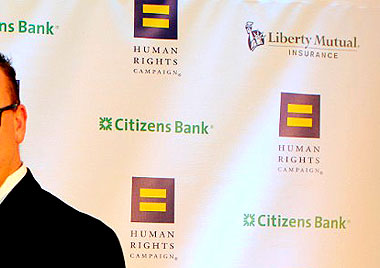 Corporate sponsors of "gala fundraising banquet" for
homosexual movement.
Pro-family religious coalition fighting hard. Close vote predicted. Scott Lively video being broadcast nationally.
* Full Report coming Monday! *
MassResistance video "What 'gay marriage' did to Mass­achu­setts" with Finnish subtitles was broadcast on national TV in Finland.
Not the multiculturalism and socialism revisionist history the Left has been pushing in public schools.
Had major fundraising banquet in Boston on Saturday.

Terrance Bean, Founder and current Board member of the LGBT group "Human Rights Campaign," was arrested Thursday for seducing a 15-year-old boy.
You can take action now!
Also . . . Sign our PETITION to fight back!

Here's an example of what major corporations are funding in elementary schools across the country!
These kids are the real thing - an inspiration to all of us! See their powerful 5 1/2 minute video.

These students are on the front lines.
What the "non-partisan" voter guides didn't tell you.
RESULTS now posted.
Disliked by the media and political establishment. But conservatives love it!

Pastor Scott Lively (second from right) at Oct 7 TV debate.
Analysis:
The New Movement
Analysis of the Oct. 6 Supreme Court announcement:
| | |
| --- | --- |
| | The "gay marriage" steamroller is in the news again. It's about time we started being honest with ourselves. |
"Making Gay Okay" by Robert Reilly is well-written, thorough, and does not pull any punches. (It even footnotes MassResistance web pages!)
Reaction to pro-family successes stopping 'gay marriage' and LGBT agenda overseas.
Pastor Scott Lively and Brian Camenker of MassResistance among targets.
National homosexual-transgender group stops at nothing to push agenda in US and overseas
To combat US pro-family groups helping other countries fight back!
In California already. Starting now in Massachusetts. Their goal is to force it into schools nationwide.
| | |
| --- | --- |
| | This video is now a mandatory part of the curriculum at Lowell High School in Lowell, Mass. |
Anti-conservative push by party. Stark comparison to Democrat tactics.
Bryan Fischer has written a devastating article revealing what the politicians in both parties are afraid to talk about. Very disturbing.
Submits over 12,500 valid signatures from 250 towns across the state!
Beyond outrageous. But as Sept. 5 primary nears, Tea Party activists are fighting back!

Answer: Even more than when he ran four years ago!

Mark Fisher (left) and Charlie Baker debate at Boston Globe office -- hostile territory for Fisher! [Boston Globe photo]

At "LGBT" Teachers Conference in Boston
A dangerous intro to "gay" sexual behavior.

Men and children from Boston LGBT club marching in Youth Pride Parade.
MassResistance called on to help.

The front page of the major newspaper in the Virgin Islands on July 10 tells it all.
Part 3 in our series.
Huge victory for pro-family citizens.
The Mass. Legislature met all week to pass bills before the Thursday night deadline.
At GLSEN LGBT Teachers Conference in Boston

Here's what they're giving to kids to help them "come out"
to their parents.
Constitutional issues ignored. Court challenge very likely.

Rep. Jim Lyons led the charge against this tyrannical
legislation.
MassResistance was first contacted a year ago by pro-family activists in South Africa.
We all know what it's like to be on the receiving end of uncontrollable abuse from liberals. Unfortunately, most of us don't "get it."
UPDATE: On Wednesday evening, 7/23, the full House passed the buffer zone bill by 116-35 after 4 1/2 hours of often heated debate. Rep. Jim Lyons led the pro-life forces and gave it everything he had. Full report coming.
See our full report: It's a stunning preview of what we can expect from the iron-fist politics of the Left in the age of Obama. Long-time State House observers we've talked to cannot recall anything like this.

Right after the hearing, Operation Rescue Boston posted this photo of the Communist Chinese Central Committee. Apparently a model for the Mass. Legislature.
Life in the banana republic known as Massachusetts . . .
What you need to know about this terrible legislation, including text of bill.
It's the opposite of what you're being told.
Lies and hysteria at State House press conference.

Gov. Deval Patrick addresses reporters while Attorney General Martha Coakley (left) and state abortion group leaders look on. [MassResistance photo]
Bill Cotter's article, "Buffer zone rhetoric belies facts about pro-life demonstrators" confronts the disinformation and hysteria from the Left.

Finland isn't as easy to conquer as the homosexual movement expected!
Pro-family lawyers bring big defeat to abortion movement

Attorney Philip Moran stands outside US Supreme Court with lead plaintiff Eleanor McCullen, a longtime pro-life sidewalk counselor.

Also: MassResistance protest at Gay Pride Parade draws anger & vitriol!

The "New England Leather Alliance," a sado-masochist group, had a prominent presence in Boston Gay Pride. Note the logo on their banner includes a whip.
But is this nightmare our future? Can we stop it?

On her way home from 16 months of captivity.
Great Boston Globe column by Jeff Jacoby
Despite the group's long history of extreme bigotry, politicians and corporations are marching in it and funding it.

The "Sisters of Perpetual Indulgence" are homosexual men grotesquely dressed as Catholic nuns.
LGBT Teachers Conference in Boston, Part III
This doesn't happen by accident.

A teenage boy at a recent state-supported "Youth Pride" event in Boston.
National effort by homosexual movement to ban counseling. Bills filed in state legislatures across America. Being stopped by pro-family outrage.

Taking it to the State House leadership!
Carl Sciortino disrupted a Catholic Mass in 2003 over Church's marriage stand
Spain, Finland, Hong Kong, and more.
Here's how they get them in -- and what comes with them.
Well organized, fueled with taxpayer dollars. Exclusive report from MassResistance. Coming to your school soon.
This is just the beginning!
Show your solidarity with pro-family forces everywhere . . .
See Free Justina ACTION Page for latest info
One of many Justina signs outside the Mass. State House
A destructive measure to please a radical special interest.
Some shameful hostility among GOP Reps. Your help is making a difference!

Justina's health has seriously deteriorated since being
taken from her parents, who are only allowed 1-hr visits!
A lesson for the pro-family movement around the country.
Key politicians, labor unions, others join parade!
To silence opposing opinions, force diversity training, and more. Passed House, now in Senate!

Representatives of three major homosexual activist
in Massachusetts testify at public hearing for new bill.
MassResistance fights back on national radio.
| | |
| --- | --- |
| A boy marching in state-supported "Youth Pride" parade in Boston. | |
| | |
| --- | --- |
| | This infamous book, Queering Elementary Education has been widely used by school staff across the state.. |
Despite school's refusal
National implications.

Holding a sign outside of a Massachusetts abortion clinic.
MassResistance working closely with activists.

Utah activists meet to confront "gay marriage" crisis.
Speech at pro-family rally broadcast on national radio.

Brian Camenker of MassResistance address Jamaicans
Should have been disqualified from case

Federal Judge Michael Posner
Voters ignore pressure from government, media, activists (and even US State Dept).

Marriage supporters celebrate victory in Croatia vote.
At MassResistance we believe that good people must stand and fight back without compromise and without fear.
Moving the pro-family movement forward . . .
Files bill in Mass. Legislature after son was referred to outside "gay" club by school. Gives powerful testimony at public hearing.
Responding to requests: A tool for individuals, groups, and churches.
Part of national push in state legislatures
| | |
| --- | --- |
| "Out gay" Mass. state rep Carl Sciortino (D-Medford) is the national homosexual movement's point man in the Mass. Legislature, and is leading the charge. | |
Special report:
From schools into the streets. Crime, prostitution, and AIDS

Two young men at "Youth Pride Day" in Boston 2013.
How a third-world country treats its pro-family citizens

As the hearing began, Gardner Auditorium was packed from floor to ceiling. But most of the people there never actually got to testify
Also: How the pro-family movement botched these cases

The mainstream media reacted predictably.
See photos, handouts, and more.
Claims to be a "new kind of Republican." See photos.
"Transgender rights" madness continues:

Boston Herald article on Wednesday.
Violence erupts as gays stage "kiss-in" nearby before vote.
More Gay Pride Week in Boston:
Attorney General says: I'll help change laws to push gay agenda.
| | |
| --- | --- |
| Mass. Attorney General Martha Coakley tells homosexual activists she'll help mold "our laws, our opinions, and our cullture" for the LGBT community. | |
But telling the truth can be a firing offense!
Fighting back:
Celebrated by school officials and local news media.
Cardinal changes plans; international newspaper coverage; Boston liberal media inflamed!
This is the way the pro-family movement ought to be working!